Welcome to Broccoli Hall!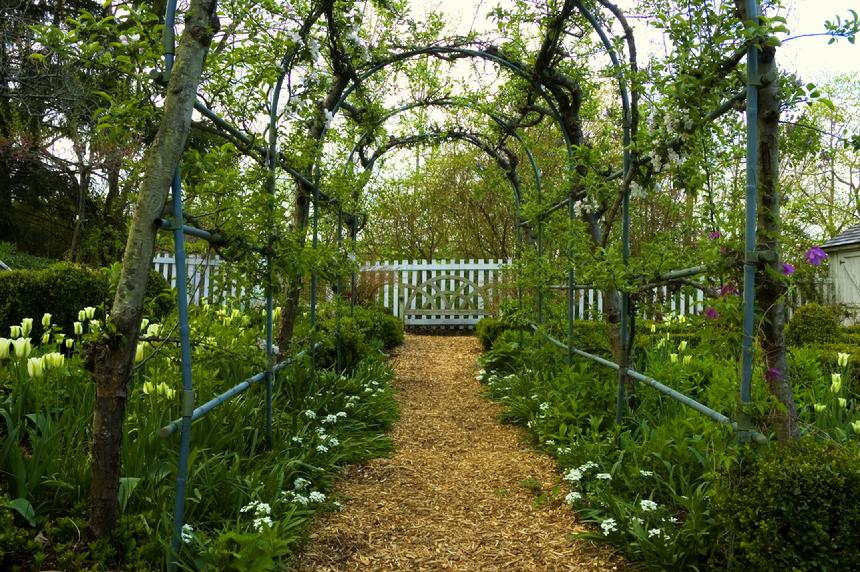 The Apple Tunnel
The very beginning...
In the winter of 1985, I saw a little Cape Cod house clinging to a bulldozed slope - and fell in love. Logically it didn't make sense. The fifty-year-old house was a disaster. The paint was scaling, the mechanicals were hopeless, and what I saw as a romantic Wind-in-the-Willows, Through-the-Looking-Glass retreat, was in fact, a rough fixer-upper, rooted in hard pan, standing up to it's window wells in freezing rainwater. No problem.
I squinted at the sun and saw that it would travel from the eastern hill behind the house, along the southern border of the little acre-and-a-half plot before setting in a long, glowing sigh across the valley to the west. I could have roses. I imagined that the spring in the foreground could become a pond, that the giant spruce trees would add elegance and winter color, that after trucking in a few million yards of topsoil, I could realize my dream garden. I ran quickly through the house with my eyes closed, signed the contract and named my little estate Broccoli Hall.
In the beginning, I worked with reknowned horticulturalist, Tim Steinhoff, who helped me understand garden structure and interpreted my colorful ideas into actual plants. Thirty-one years have passed, and in that time I've had failures and unexpected successes, learned that "perennial" doesn't mean "eternal" and that good structure makes the garden satisfying in all seasons. Most of all, I've learned to love what grows best in my garden.

Above, my dream house and garden in 1985. I dreamed big! Today... Broccoli Hall is a private garden in Amenia, New York, that is open to the public twice a year. Inspired by English gardens, Broccoli Hall is a series of connected garden rooms, each differing in mood and content. Visitors say that the features they like best are the boxwood-lined cottage garden with an apple tunnel, the brick courtyard, the secret woodland garden blooming with crabapples and white-and-pink daffodils in May, the abundant three hundred foot long June border with roses, peonies and tall bearded irises, the koi ponds and the pink, five-sided treehouse with long views of distant hills.

Pictured on the opening page, the Apple Tunnel in May and the entrance to the Teddy Bears' Picnic in June. A red rose and a white one flank a chimney pot from Hampton Court and a rustic gate. Below, lilacs in the courtyard bloom and the daffodil swale in May. The 2018 May and June Open Days were tremendous. We had beautiful weather and wonderful guests! The new bears and whimsical bird feeders that were designed, carved and built by artisan, Hoppy Quick, were a hit. The courtyard was in its full glory. Thanks to all who came to the Garden Conservancy Open Days. If you came in May, do stop by in June next year. And vice-versa! The garden looks very different in these two months. I look forward to meeting you all. Maxine Paetro, Amenia, New York.

Clicking on images below will open magazine articles about Broccoli Hall.
Maxine Paetro is a gardener, wife to John Duffy, stepmom to Brendan, cat mom to four, koi breeder of thousands, co-author with James Patterson.

http://en.wikipedia.org/wiki/Maxine_Paetro

The 18th Abduction, our latest entry in the Women's Murder Club series, was published on April 29, 2019. The 19th Women's Murder Club thriller, the 19 Christmas, will be published in October 2019. I appreciate hearing from garden visitors who are fans of the Women's Murder Club!
A list of complete works here: http://www.fantasticfiction.co.uk/p/maxine-paetro/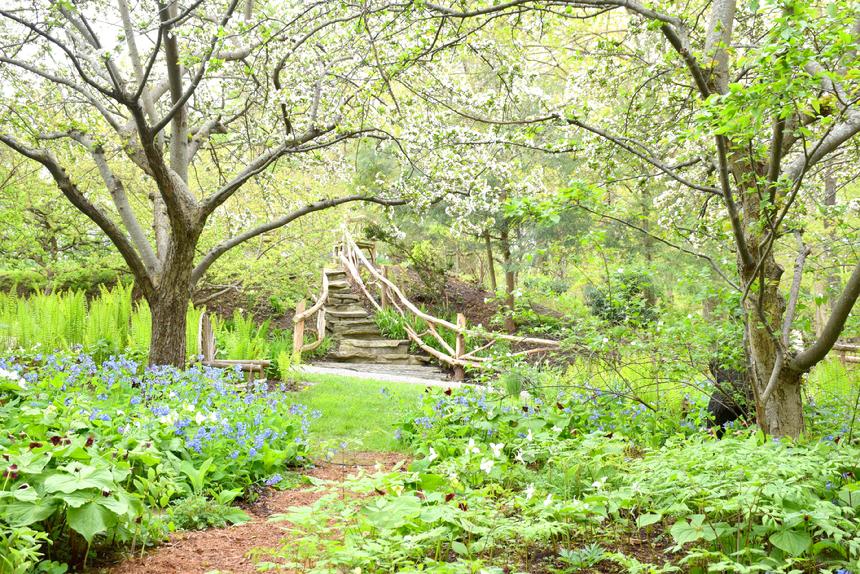 Scene in the Secret Woodland Garden
Through the Secret Woodland Garden toward The Teddybears' Picnic
A doe backed by the 300' long June border. We expect the roses to be in full bloom on June 22, 2019
In 2009, a new venture was started at Broccoli Hall; the Ki Shusui project. The "elusive Ki Shusui" is a variety of koi that is difficult to breed and hard to find. In 2012, we (the fish and I) had a successful spawn and the first and second generation of these lovely ki shusui koi are living in the three mud ponds in the garden and field. Fish are hard to see in mud ponds in summer but, we will do a few feedings in hopes of making visual contact. And, if you click on this link, you will connect with kishusui.com and can see images of this adorable fish.
www.kishusui.com.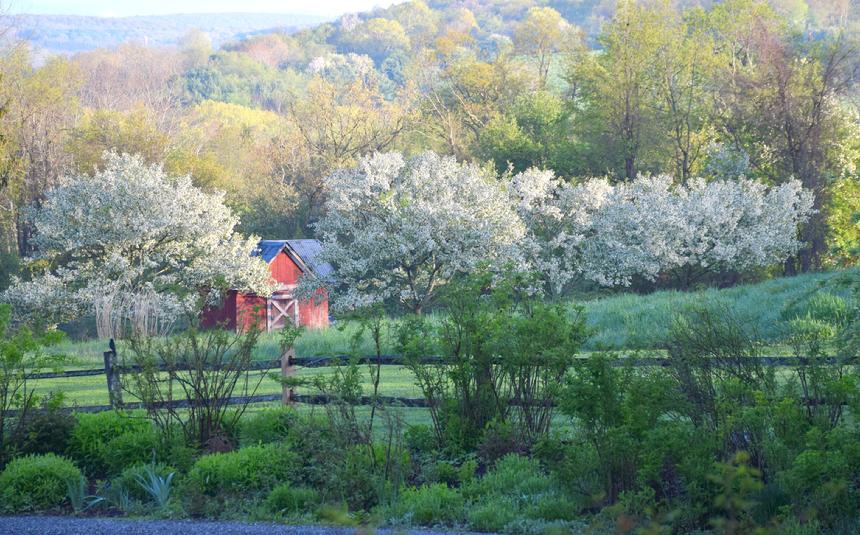 Crabapples with antique barn
Lovebirds in June rose border

The cottage garden in Spring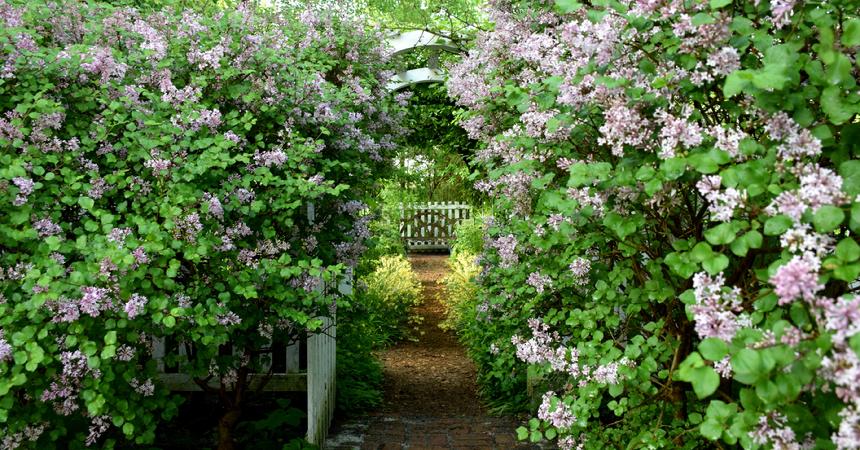 Lilacs in the courtyard, bloom. A sunny narcissus under the tunnel
The Long View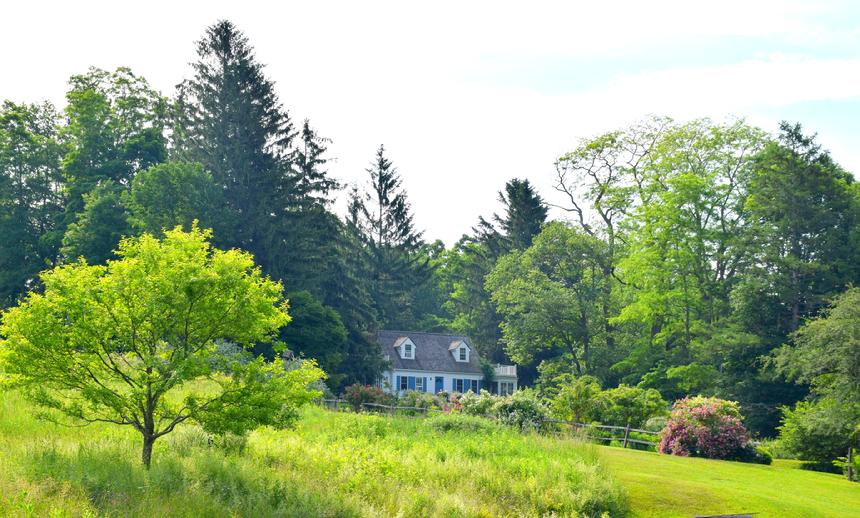 House from the lower pond and field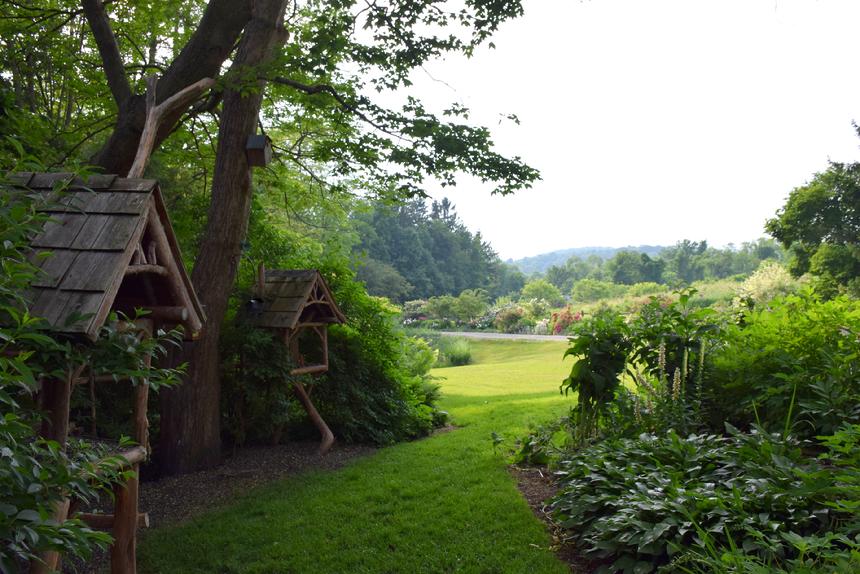 From rustic bird feeders to summer border and beyond.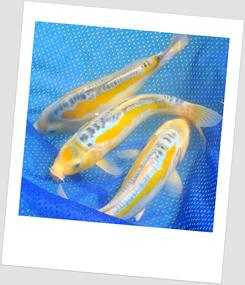 the "elusive" ki shusui
There will be an Open Day on May 12 and in June 22, 2019.
Donation of $10.00 per person (children 12 and under no charge)
benefits

the Garden Conservancy
and the Amenia Free Library